Sometimes it's good to be struck by lightning.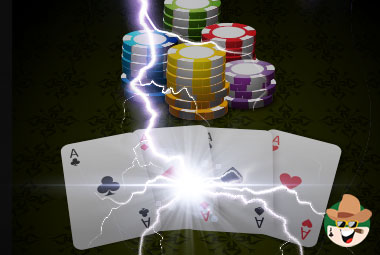 That was what happened to me years ago when I won $42,500 in a major Omaha High-Low World Poker Open tournament in Tunica, MS.
The tournament took place at Jack Binion's Horseshoe Casino. I had no business playing in it!
I was on my way to a new job as editor of a weekly newspaper in Lake Park, FL. I knew Jack had split from his sister and sold out his interest in the original Binion's Horseshoe, a popular resort in downtown Las Vegas.
I knew about his starting up a casino in Tunica, and just wanted to drop by and wish my old friend luck. That was my plan but Jack talked me out of it.
"There's a satellite tournament starting up in a few minutes," he said. "Why not play in it? It's only $60 and if you win, you can play in a big Omaha High-Low tournament tonight."
"Jack," I protested, "I don't know how to play Omaha High-Low. It isn't my best game."
"Hell, its just going for low cards," he said. "The game's easy to learn. You can handle it."
Well... that was many years ago. I am not sure I agree with Binion's assessment of Omaha High-Low. A new player can get into a lot of trouble if he doesn't understand the finer points of the game.
But this is now and that was then...
....and the truth is that lightning struck me that night and I have never been the same!
I paid my $60 and entered the one table satellite tournament. The cards came to me and I won the tournament and a $540 buy-in into the evening event.
Some of the country's top players had signed up for the tournament. I knew I had no business matching poker skills with them, but here I was. Binion provided me with a free night's lodging and wished me good luck.
"Good luck won't help," I said miserably. "What I need is a crash course on how to play Omaha High-Low."
I retired to my air-conditioned room to get a little rest before the tournament. As I lay in a comfortable bed...
...I remembered my first Omaha High-Low game at the Union Plaza in Las Vegas. I had decided to try the game because it was 100 percent different from Texas Holdem. You were dealt four cards and you played for high and low hands. If you got one, you won half the pot and if you got two, you won all of the money.
Simple, right?
Omaha High-Low players overemphasize the importance of low hands that are less than perfect. An ace three is a perfect example of what I am talking about.
To a beginning player, ace three looks pretty good, but it doesn't come close to being as good as ace two or a hand that contains an ace, two, three. Your low hand can easily be counterfeited when the dealer tosses a deuce or three onto the board. I didn't realize that, of course.
I was a babe in toyland, and the wolves were out to gobble me up.
And so:
That evening at 7 p.m., I found my seat and began playing against some of the best Omaha High-Low players in America. I played my ace three hands as wild as I would a hand with a pair of aces and a deuce three - basically a perfect starting hand in Omaha High-Low.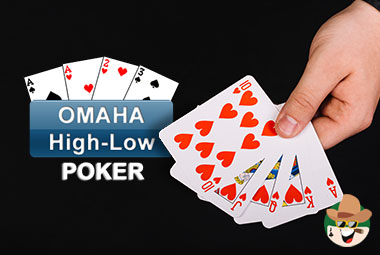 Guess what? I won with those hands.
My chip stack kept building up and I began knocking players out of the tournament. At the break, I had a pile of chips and Jack came by my table to compliment me. Nolan Della, a columnist for Card Player Magazine, was also there to praise my game.
After the break, I continued my aggressive style of play. I would raise with the worst hands and wind up with the best flop. Frankly, my style of play drove my opponents a little crazy.
When the action ended around midnight, I had made the final table. Unbelievably, I was in third place on the chip count! Our chips were secured in the cashier's cage for the evening and we were told to be in the poker room at noon the following day to play for the big money.
That night I slept like a baby.
I had a great breakfast the next day, and arrived at the final table two minutes before the cards went into the air. Jack Binion came up to me with a smile.
"Well, have you learned the game yet?" he said.
"I'm still working on it" I SAID.
For the next couple of hours, I never changed my game plan. I continued playing bad cards and kept winning with them. I put one player from Atlantic City, N.J. all in three times and each time she made a miracle draw to get back into the tournament.
In exasperation, she said, "Don't you LIKE me?" I shrugged helplessly and blamed it on the game.
Finally, there were just two of us left. I looked at my hand - ace, three, six, seven. I raised. My opponent called me and turned over ace, ace, two, nine.
The flop came deuce, four, five. I ended up with a wheel, a winning bracelet and $42,500.
As Binion paid me off in the cashier's cage, he said, "Now aren't you glad you stayed for the satellite?"
Jack, you'll never know.
Author: Geno Lawrenzi Jr.
(Geno Lawrenzi Jr. is an international journalist, magazine author and ghostwriter and poker player who lives in Phoenx, AZ. He has published 2,000 articles in 50 magazines and 125 newspapers. If you want to share a gambling story or book idea with him, send an email to glawrenzi@gmail.com ).
Back to articles
Your feedback
Please enter your comment.
Your comment is added.