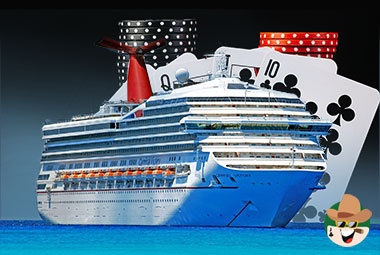 If you have never been on a cruise, shame on you because you are missing one of life's truest adventures!
Most of the major cruise lines have a casino on board to relieve their passengers of boredom. That's all well and good.
Being in a large ship floating through international waters, and stopping at exotic ports of call along the way for anywhere from five to 10 days, can leave a fellow wondering what to do with his time.
Sort of...
I have sailed on a couple of dozen cruises over the years. The best cruises I ever took were on Capt. Mike Burke's Windjammer Barefoot Cruises. The cruise line no longer exists -- a devastating hurricane sank one of the tall ships and took the lives of the crew members.
But gambling cruise ships today are gaining in popularity. Some of those cruise ships with their six decks, half a dozen swimming pools, and room for 2,500 passengers offer choice rates to take you to places like the Caribbean, the islands of the South Pacific, the Mexican Riviera or other locales in Central and South America.
Why should you spend money on a cruise, especially a gambling cruise? Glad you asked the question.
Here's why:
This is getting personal, but Papa Hemingway said the best way to write something is to utter a completely true sentence, and follow it up with equally true sentences.
The pressures of everyday living in today's hectic world can be pretty tremendous. When the average person steps aboard a cruise and retires to his or her stateroom, or goes on deck in a bathing suit to soak up sun and sea breezes, it takes a couple of days just to get the blood pressure down.
You become aware of your surroundings. You stand on deck and watch flying fish or if you are lucky, a fleet of porpoises will follow your ship. You might even spot the dorsal fin of a shark or a whale.
Most cruise lines have a casino on board complete with all the regular games, including poker, dice, baccarat and all the crazy House games that offer players a chance to win money.
If the cruise is a poker cruise, you can rest assured that a couple hundred of the 2,500 passengers on board will play the game. You can play in tournaments or for cash. The best run poker cruises will make sure low limit games are offered with the no limit or pot limit events.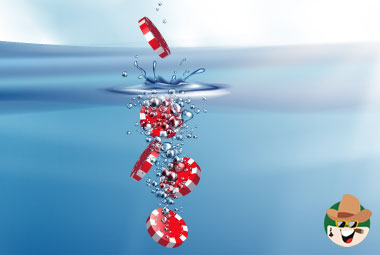 The casino will usually shut down when the ship makes land. That will give you and your party a chance to do some island hopping. You can visit beaches, do some island shopping for souvenirs, or cozy up to a special restaurant that will cause your taste buds to salivate.
While most of the cruises I have been on were memorable because of the sun, surf and sea, a couple have been harrowing. Once on a two-deck cruise ship called the Vegas Express out of Hollywood, FL., we ran into a storm of near hurricane force.
The winds and waves were so powerful, it caused us to turn back to the safety of a harbor about two hours early. One wave was so massive it cause a dice table to be uprooted from the floor!
Royal Caribbean Cruise Lines offers poker cruises and gives poker players a perk by offering $5 for each hour you play. The money can be applied to your next cruise or used for other purchases.
You will make friends on a cruise and some of them will be lifelong. Some people have sailing in their blood while others, unfortunately, may get sea sick. That is part of the risk of sailing.
Most of the poker cruises offer special rates to couples. Their rates are generally lower than the average rate on a cruise, which comes to about $100 a day. Shop around on line and you can save money.
I haven't been on a cruise in years...
...and I am chaffing at the bit to go on one. The bad beat jackpot at BestBet is over $150,000. If I hit it today, I plan to spend my money on wine, women, song and cruising.
The rest of it I will spend foolishly. Happy sailing!
Author: Geno Lawrenzi Jr.
(Geno Lawrenzi Jr. is an international journalist, magazine author and ghostwriter and poker player who lives in Phoenx, AZ. He has published 2,000 articles in 50 magazines and 125 newspapers. If you want to share a gambling story or book idea with him, send an email to glawrenzi@gmail.com ).
Back to articles
Your feedback
Please enter your comment.
Your comment is added.