Poker is an up and down, topsy turney world that never ceases to amaze me.
While I realize there are tournament players who pile up millions of dollars in winnings...
...there are many others who win for a spell and then drop out of the picture. They don't drop out permanently - it's just for a while until they get their game back.
I don't know why this happens.
Poker, as all the experts and books say, is a SKILL game. If you have a skillful tennis player, golfer or bowler, it shows in the results and that person will usually win or finish high in the money.
But luck plays a part in every endeavor -- and that is especially true when it comes to poker.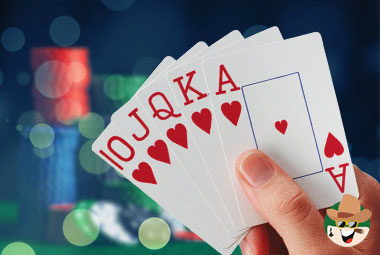 Now:
I am not an expert on the way the brain works. I know the brain retains everything that we do in life and stores those experiences deep in the recesses of our memory.
You would think the brain would function in our favor when it comes to making a key decision on whether to call, fold, raise or re-raise a poker hand. Often it happens that way -- but not always.
I have a difficult time figuring out how I can go into a casino and play perfect or near perfect poker that ends in my winning a tournament. Flush with victory and new money, I leave the casino, go home, return in a few days or a week...
...and run into a brick wall.
The cards fail to come. I make decisions that turn out wrong. The other players draw out on me. It's a disaster!
Like all poker players, I do my best to figure out what happened. Some of the veteran poker champions are not confused by these events. It has happened to them, they say. It's all just part of the game.
After a losing streak, I have one strategy I fall back on and it often works. I dig out my old well-thumbed books of strategy (Doyle Brunson, are you listening?) and re-read them. I go through page after page, chapter after chapter, and take notes.
When my brain is full, I head back to the casino.
Bingo! I'm a winner again.
In poker...
...the learning never stops.
You need to refresh your game. If you don't, you're going to find yourself busted on the rail, wishing you had the cash for another buy-in.
I tip my hat to the big winners, the ones who are consistent and who have piled up millions of dollars in poker earnings. You guys have a gift that I am still trying to acquire after more than four decades of learning.
Because in poker, the learning never, NEVER stops.
Author: Geno Lawrenzi Jr.
(Geno Lawrenzi Jr. is an international journalist, magazine author and ghostwriter and poker player who lives in Phoenx, AZ. He has published 2,000 articles in 50 magazines and 125 newspapers. If you want to share a gambling story or book idea with him, send an email to glawrenzi@gmail.com ).
Back to articles
Your feedback
Please enter your comment.
Your comment is added.