On a sunny Saturday morning, I got lucky at Binion's Horseshoe and won over $1,200 playing poker. I won the money in a $4-8 game and that was a pretty big score for such a low stakes limit game.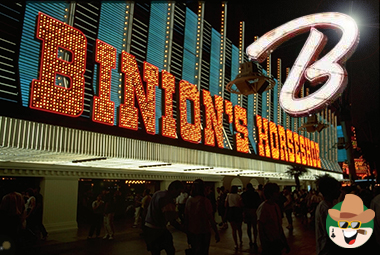 Feeling full of myself, I asked the poker room supervisor to move me to a higher stakes game.
He thought about my request for a moment, then said hesitantly, 'Well, there's a $10-20 game that you might be interested in...' I didn't hesitate. I followed him to the table.
I bought in for $200 and sat down between a middle-aged woman and a kid wearing headphones and dark glasses and jerking to the music coming from a stereo.
I played one hand and lost.
I played another hand -- and lost.
I played a third hand with pocket aces and lost. Then I rose to my feet, smiled, and excused myself from the table.
The kid with the headphones had beat me out of two hands and the grandmotherly looking woman won the third.
I called the floor man aside and said, 'Who is that kid?'
He looked surprised. "Didn't you know? That's Stu Ungar. Around here, we call him The Kid."
That was the only time I ever played against Ungar and the only time I met him. He looked like a kid, but he was actually in his 40s and would die a short time later from a heart attack brought on by years of cocaine and crack addiction.
Ungar was born in Manhattan. His father was a loan shark who ran a bar and social club called Foxes' Corner.
Gambling went on in the back room and Stu was exposed to it at an early age. He learned to play gin rummy, poker and blackjack, and became a champion at all three games.
A gifted student, he dropped out of school in the 10th grade. His mother was incapacitated by a stroke and his father died of a heart attack just after his 14th birthday.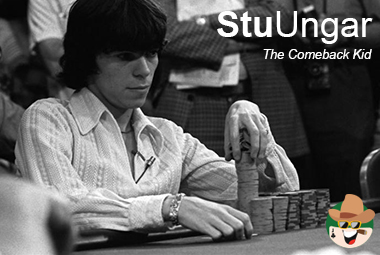 Stu was befriended by a New York mobster named Victor Romano who took young Stuey under his wing and taught him how to really play cards.
Stu was gifted with total recall and became so good at gin rummy that nobody could beat him.
After his mother died, he moved to Miami and then to Las Vegas. He was so good at gin that nobody wanted to play him.
He won so many gin tournaments in Las Vegas that some of the card room operators banned him. No problem. Ungar switched his games to poker and blackjack.
He was such a good card counter that he won $100,000 from Bob Stupak who bet him that he could not count down a six-deck blackjack shoe and identify the last card. Stu did it and was correct.
Stu began winning poker tournaments in Las Vegas. He defeated Bobby Baldwin, the 1978 world champion at deuce to seven card stud and won $35,000. He also beat Dewey Tomko in a seven-card stud tournament and pocketed $110,000.
After his mother died in 1979, Ungar began using cocaine. In his autobiography, he said he used the white powder to give him energy and to keep him awake in his marathon poker playing sessions. But later he used it because he was addicted.
His drug addiction got so bad that in 1990 while playing in the World Series of Poker, he was found unconscious on his bed in a motel room where he had suffered a drug overdose. He had accumulated so many chips that even though the dealers blinded him out, he still finished ninth and won $20,000.
During his lifetime, Stu won five WSOP bracelets and more than $3.5 million in tournament money. He won the WSOP three times and won Amarillo Slim's Super Bowl of Poker three times, collecting over $1 million.
Ungar's friends knew about his drug addiction and tried to talk him into going into drug rehabilitation. One of his friends was Mike Sexton, who started the World Poker Tour. Stu refused to quit.
He won millions of dollars playing poker and lost millions betting horse races and sports. In 1997, he was broke and borrowed $10,000 from a friend, Billy Baxter, for his buy-in into the WSOP.
Although he was so exhausted from drug use he fell asleep at the table on the first day, Stu rallied and won the tournament and $1 million, which he split with Baxter.
The Las Vegas media nicknamed him 'The Comeback Kid.'
During the final two years of his life, Ungar switched from cocaine to crack. He had destroyed the membrane in his nose and could no longer snort the powder and crack allowed him to smoke to get high.
On Nov. 22, 1998, he was found dead in a downtown motel room. He had died of a heart attack brought on by his years of drug abuse. He had $800 from a $25,000 loan given him by Bob Stupak who wanted to back him in poker tournaments.
Stupak attended Ungar's funeral and took up a collection to bury Stu 'The Kid' Ungar, who may have been the best gin rummy and poker player to ever walk the Las Vegas Strip.
Friends remember Ungar as totally unique and one of the most generous people they ever met.
"If you needed money and he had it, he gave it to you without hesitation," said Sexton. One friend recalled Ungar giving a homeless man on the street a $100 bill.
A movie was made about his life called 'High Roller -- The Stu Ungar Story.' I haven't seen it, but if it comes around, I plan to put it on my must-see list.
Author: Geno Lawrenzi Jr.
(Geno Lawrenzi Jr. is an international journalist, magazine author and ghostwriter and poker player who lives in Phoenx, AZ. He has published 2,000 articles in 50 magazines and 125 newspapers. If you want to share a gambling story or book idea with him, send an email to glawrenzi@gmail.com ).
Back to articles
Your feedback
Please enter your comment.
Your comment is added.