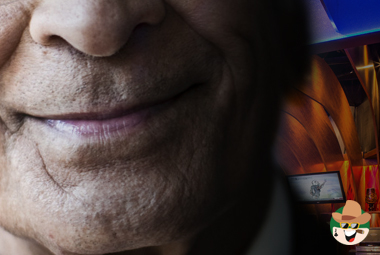 When I sit down at a poker table, I am about as sociable a fellow as you'll find anywhere. Some of my fellow players think I am too socialable. In the past I have been accused of talking too much and once a player even called a floor person to accuse me of being too verbal.
He threatened to leave the game...
...if I kept talking and I interjected, with a smile, 'That won't be any great loss.' The floor man solved the issue and he didn't leave.
But as we all know, poker players come in all sizes and shapes. There's a player at Talking Stick Casino near Scottsdale, AZ. who we refer to as The Hermit..
He's in his 60s and dresses in Western attire -- wide-brimmed black hat, jeans, scuffed boots and a Western shirt that has seen better days. He doesn't talk to anybody. His conversation seems to be limited as the only words he says are 'Raise,' 'Re-raise' and 'Fold.
I have tried to talk to him on a couple of occasions, just to be social, but haven't gotten a response from him, so I gave up.
One of the other players told me a little about The Hermit
He said he's a gold prospector who lives in a shack near Apache Junction, about 30 miles from downtown Phoenix. Now I know about people who pan for gold, being one of those creatures myself. Most of them are suspicious of anything that walks on two legs. They are convinced they are on the verge of discovering a mother lode and believe every stranger is out to steal their claim.
About a month ago something happened that almost made The Hermit become human. Notice, I said 'almost'!
We were playing $4-8 Omaha High-Low. I was about $60 down when one of the players made a jack high straight flush, beating four 10s. We had hit the bad beat jackpot. One of the players collected $10,000 for his losing hand, the winner got $5,000 and each of the other players at the table was paid just under $500.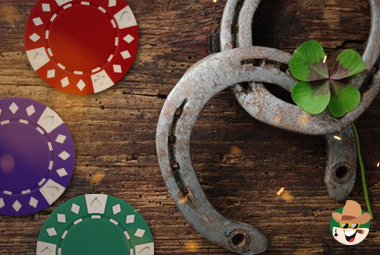 It took the poker room staff about 90 minutes to pay all of us off, during which time we played very little poker and just smiled at one another. Even The Hermit had a grin a mile way.
One of the players asked him what he planned to do with his money. He thought about it and said, 'Probably buy another metal detector.'
That got the entire table into a discussion of how effective metal detectors were at discovering gold. I interjected that I had done considerable gold panning and had never found any use for taking a metal detector into the hills.
The Hermit said, 'You ever done any prospecting in the Superstitions?'
'Dozens of times,' I lied. Actually I have only prospected there twice.
'Sure you have,' he muttered. But he was smiling.
The house man finally came around and paid us off. We gave the eager dealer her tip and went back to playing poker. As the dealer shuffled up the cards, The Hermit said, 'Garrett makes the best metal detector. You might try them out sometimes.'
And he hasn't spoken to me since.
I guess I really shouldn't be so hard on people who are non-communicators. Having been a divorced male for more than 20 years, I spend a lot of time alone. After a while you learn to live with it and even enjoy it. Sort of.
You spend a lot of time thinking about things and sometimes you even talk to yourself. I'm sure The Hermit occasionally finds himself doing that. When you get into mixed company, you don't have a lot to say and probably resent people who try to draw a conversation out of you.
The Hermit's lack of verbosity won't have any effect on me, I assure you. I will still draw him out when I can. And if we hit another bad beat jackpot, who knows? He might become as talkative as David Letterman or Chuck Schumer at a press conference. You never know about people.

Author: Geno Lawrenzi Jr.


(Geno Lawrenzi Jr. is an international journalist, magazine author and ghostwriter and poker player who lives in Phoenx, AZ. He has published 2,000 articles in 50 magazines and 125 newspapers. If you want to share a gambling story or book idea with him, send an email to glawrenzi@gmail.com ).
Back to articles
Your feedback
Please enter your comment.
Your comment is added.