You meet all kinds at a poker table: from milquetoasts to maniacs.
Beware of the maniacs! They can be dangerous to your bankroll.
It was Thursday night at the BestBet poker room in Jacksonville, FL. The place was packed because of the room's special Christmas promotion.
Following the Yuletide theme of '12 Days of Christmas'...
...the casino was offering tempting payoffs each hour for high hands. On Dec. 12, for example, the payoff would be $1,200, raising $100 each day until Dec. 25.
I placed my name on the waiting list, and after an hour I was escorted to my seat at a pot limit Omaha 8 high-low game. A young player in seat eight was drinking beer and playing like there was no tomorrow.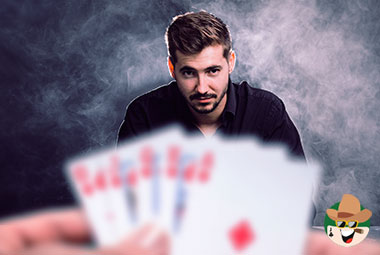 Now:
There are some people who treat money as though it has NO value. THAT was the way this maniac played the game.
The more he drank, the wilder he became!
He overtipped dealers and cocktail waitresses and threw redbirds ($5 chips) around as though they were confetti. In pot limit, the pots can become huge with this kind of play and the maniac was determined to make it expensive for anyone to enter the pot.
After an hour, he was well into his cups and had accumulated a large pile of chips. He didn't even bother to stack them. Playing against a maniac is dangerous no matter which road you choose to travel.
All of us, of course, were interested in seeing the flop because of the large high hand payoffs. But this dude was making it expensive to see that flop.
There is no question that dealers, as well as players, like the actions of a maniac.
I decided to wait until I caught a really good hand and finally was dealt pocket aces, double suited with a deuce and trey. He raised the bet to $12 and got five callers for a total of $72 in the pot.
The flop came ace, six, seven, giving me a perfect high and low hand. He push $72 into the pot, got two callers and I raised the maximum, pushing over $300 into the pot.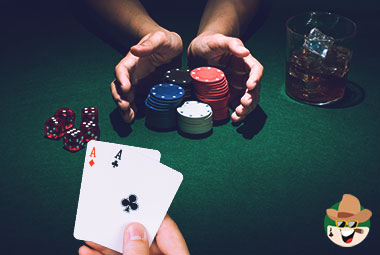 He called and I ended up winning over $700!
The maniac had deep pockets and dug down for more cash. Over an eight-hour period, he went through a couple of thousand dollars before odds, drinking and his big bets sent him slinking from the table, broke and defeated.
I was happy to see him leave. Maniacs only bring chaos to poker and I prefer a game that I can control rather than one that is controlled by a freak of nature.
If you find yourself at a table that includes a maniac, I suggest one of TWO techniques:
ask to be assigned to another table;
or prepare to wait for good hands rather than deciding to gamble with him.
Before I left BestBet, I strolled around the poker room and, sure enough, there he was at another table, still drinking, sitting on a pile of unstacked red, blue and black chips. Some people never learn.
When I mentioned his behavior to one of the room's floor men, he smiled.
"Come on, Geno, you have to love a guy like this. He's throwing away his money and you're complaining?"
I thought:
Yes, he is throwing away his money and I am complaining. It isn't good for the nerves, and pills to regulate a person's blood pressure can do only so much.
Author: Geno Lawrenzi Jr.
(Geno Lawrenzi Jr. is an international journalist, magazine author and ghostwriter and poker player who lives in Phoenx, AZ. He has published 2,000 articles in 50 magazines and 125 newspapers. If you want to share a gambling story or book idea with him, send an email to glawrenzi@gmail.com ).
Back to articles
Your feedback
Please enter your comment.
Your comment is added.

DomLatVit

01/08/19, 09:01:35 AM
Never has such issues, though I've met my share of crazy people at nearly every casino I've been. There is always at least one of those you...
Never has such issues, though I've met my share of crazy people at nearly every casino I've been. There is always at least one of those you just know ain't quite right in the head.
Show more