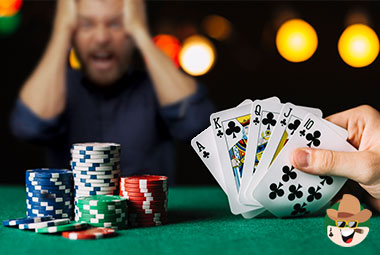 There is nothing in the world quite like playing poker in a small town.
It was a sin that the other townspeople didn't look down on. Everybody in the neighborhood knew the game was going on, who played in it, and how long the game would last.
The game was more about the characters than the odds. In my home town of Sutersville, PA., everybody knew Junebug was the bully. He owned a bar, restaurant, and hotel in a pink building with his name on the roof.
He served good pizza and meatball spaghetti. Several times a week Mom would call in an order for Dad or me, or one of my brothers to pick up.
Junebug played in a weekly social game at a club near the Moose Lodge. The regular players included my brother Legs, and a smiling guy we nicknamed Shotgun.
Because of his size, drinking and bluster, Junebug often dominated the poker games. He was a hard loser and nobody knew what he would do after losing a pot.
The games would be filled with bluffing, drinking and braggadocio. There would be money and smoking cigarettes piled off the table during the long lasting game.
Junebug would glower at the other players as he studied his cards. Anytime my brother Legs would stutter and say, "I - I raise," Junebug would slam his cards on the table and say, I fold. Legs has got a hand."
I told my brother that was an easy one to solve. He should just stutter when he had a bluffing hand and do the same. I don't think my brother ever took the advice.
The home games were often accompanied by good hot food. There would be spaghetti, lasagna, fried chicken and dessert. You never left a poker game with an empty stomach.
In one game...
...Junebug upset the table making a lunge for Shotgun. That could have been over money, but more probably it was because Junebug found out Shotgun was messing around with his wife.
In many cases, those small-town poker games turned into survival of the fittest. Coal miners and steelworkers don't give up their money without a fight!
I still remember Dad not being able to believe me when I told him I was a winning poker player. He was so used to losing he felt everybody lost at the game.
I tried to convince him poker was a skill game instead of just luck, but I don't think he ever believed me.
My dad played euchre in the weekly games at the Moose Club where he was a life member. But his best game was Bocci, an Italian game of lawn bowling the members did behind the Moose building. The men would drink beer and gamble on the Bocci court about a block from the river. We kids would watch them play and then head down to the river bank to fish or take a swim.
Toward the end of his life, Dad gave up gambling and began saving his money. He left a good legacy for me, my brothers and sister. I hope I can do the same for my children and grandchildren.
Author: Geno Lawrenzi Jr.
(Geno Lawrenzi Jr. is an international journalist, magazine author and ghostwriter and poker player who lives in Phoenx, AZ. He has published 2,000 articles in 50 magazines and 125 newspapers. If you want to share a gambling story or book idea with him, send an email to glawrenzi@gmail.com ).
Back to articles
Your feedback
Please enter your comment.
Your comment is added.