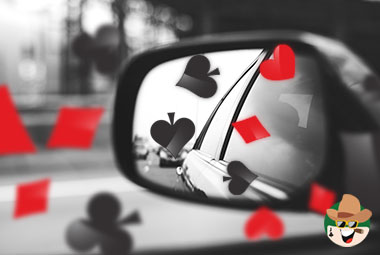 There is nothing in life to compare with driving America's highways and back country to get to a casino that offers poker, horse racing and dice!
I admit it - I am a sucker for driving.
While I don't especially admire those interstates where huge semis whip past you like a rocket aimed at an unknown destination...
...I love the two-lane roads that pass general stores, churches, diners and the heartland of the U.S.A.
The bad beat jackpot at BestBet, a poker room casino in Jacksonville, FL., was sitting at $150,000 and growing. That fired me up. Like any person in his right mind, I wanted a piece of it. For the past couple of years, I have been dreaming of buying an adobe hacienda in Arizona, Nevada or New Mexico.
My ideal place would have a corral where I could keep a couple of horses. The house would be designed by one of the architects at Taliesin West, Frank Lloyd Wright's architectural complex near Scottsdale, AZ.
It would have two master bedrooms (one for me and one for my daughter Rossana). There would be libraries, a movie room and a full-length plate glass window where I could watch the incredible sunsets of the Southwest.
The house and property would be expensive, of course, but some of those poker tournaments and bad beat jackpots pay good money. As I drove down Highway 95 toward Jacksonville, my heart beat faster.
I just knew I was going to play well!
Rossana wanted to go with me, but she has a new job she loves. She wished me good luck, and promised to take off a couple of days to try her skill at poker.
To make a long story a bit shorter, I didn't hit the bad beat jackpot. Nobody did.
I was down about $500 when I went to the horse room to test my new strategy on handicapping thoroughbred horses. Surprising...I hit the first three races and began building my bankroll back up.
On Wednesday evening BestBet spread a $100 buy-in no limit Texas Holdem tournament. I made the buy-in.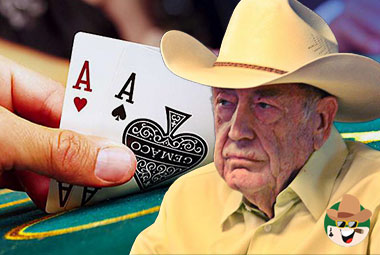 I decided from the opening deal that I was going to play like Doyle Brunson.
Doyle has given a lot of good advice to poker players over the years in his books and columns for a poker magazine. One thing he always does is...
... to play the hand after winning a pot regardless of his cards, as long as the pot isn't raised. And if he has a raising hand and there is a raise or even a double raise before the action gets to him, he will call the bet.
That is sound poker strategy. Players can get into the habit of making the same plays with A-Q or A-J, and become easy reads for the other players. But if you come into the pot with 8-3 or 9-2 and the flop comes 9-2-A, you, my friend, are in the cat bird's seat!
My first $100 lasted less than 15 minutes. A woman in her 40s sitting to my right came into a pot with pocket jacks and flopped three of a kind beating my two pairs, aces and jacks.
She said, "Sorry," as she raked in the chips. I knew she didn't mean a damn word of it but smiled and said, "Nice hand," which I also didn't mean. I bought in for another $100, leaving me less than $150 to get back to Charleston.
This time the game went much better:
I began playing tight aggressive poker and my stack of chips began growing. I won a couple of big pots by following Brunson's advice of playing any two cards after winning a pot. My opposing players looked stunned.
I made the final table. I had a lot of chips but the player to my left, a muscular tattooed giant had at least twice as many chips as me and a fellow at the end of the table had me dominated.
One by one the players began falling out. Top prize was nearly $1,200 and four positions were being paid. There were seven players left, then six, then five. Then four.
I was one of the four. The giant had been folding hands. He raised and I found myself holding pocket nines. I just called the bet. The flop came 8-7-2. I checked. He came out a big bet. I said, "All in,' and pushed my stack into the center of the table.
He almost turned pale. He studied his cards, sighed and called, turning over A-K. My nines held up. From that point on, I had the dominant chips and I won the tournament.
Hey, it wasn't part of $150,000 but it was a start. I left BestBet at midnight and sang all the way back to Charleston.
Author: Geno Lawrenzi Jr.
(Geno Lawrenzi Jr. is an international journalist, magazine author and ghostwriter and poker player who lives in Phoenx, AZ. He has published 2,000 articles in 50 magazines and 125 newspapers. If you want to share a gambling story or book idea with him, send an email to glawrenzi@gmail.com ).
Back to articles
Your feedback
Please enter your comment.
Your comment is added.