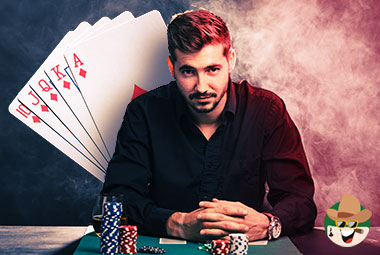 There's no question about it:
I'm on the edge again!
I am fired up for playing poker. One of the reasons is - how well my daughter Rossana has taken to the game.
There is a definite crossover when a cash game player steps up to tournaments. It ISN'T easy to win a tournament.
Until you have won one...
...don't knock the players that have accomplished that feat.
A person who is on the edge, is confident about winning.
At that moment:
He would have been willing to challenge ANYONE for a championship title, regardless of the stakes.
You can never bet against the confidence of a player. I could feel it one night in player who wanted to borrow money to play in a cash game. His name was Mike, and he sometimes found himself sleeping on park benches.
I was ahead so I slipped him two $20s. He bought into the game at the table next to mine and proceeded to demolish it. He won almost every hand from the moment he sat down!
When I complimented him on his play, he smiled and said, "Stay out of my way, Son. I mean business."
In most games, there are players at the table who make me cringe when they enter the pot. But when I am on the edge, I dare them to enter..
The ONE thing I check is my resources. Do I have enough cash to take on all challenges? If the answer is yes - I call.
A thousand years from now, if poker exists in whatever form there will be a player at the table who appears agitated, who seems caught up in some sort of excitement that supersedes the table.
That player is on the edge. He is the one you need to worry about.
When I am in a tournament, and the players have been cut down, I analyze my remaining opponents to figure out who I will probably be facing at the final table. I mentally prepare myself for them.
Finally I never undersell my foes at the final table. They got there for a reason and for that alone they have to be respected.
If you make the final table, congratulations! You have earned a merit of honor. What happens here on out is a matter of fate. Luck doesn't come along very often, but when it does, push it to the limit.
In the intensity of the excitement, you will forget how many people you are playing against. They will vanish, and you will suddenly discover you are alone at the table. You have vanquished all your enemies and you, sir or madam, are the winner!

Author: Geno Lawrenzi Jr.


(Geno Lawrenzi Jr. is an international journalist, magazine author and ghostwriter and poker player who lives in Phoenx, AZ. He has published 2,000 articles in 50 magazines and 125 newspapers. If you want to share a gambling story or book idea with him, send an email to glawrenzi@gmail.com ).
Back to articles
Your feedback
Please enter your comment.
Your comment is added.
Member's Feedback (1)

VlagreDis
12/18/18, 12:12:11 PM
You are So right Geno! Not just about poker - but about life in general! Confidence is KEY- I see it everywhere: work, relationships, and yes - at the tables!