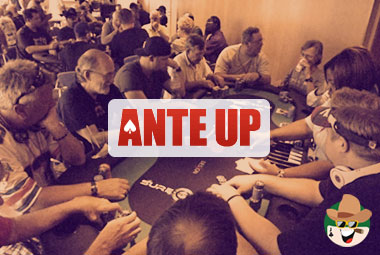 One of the many gambling magazines I have published articles in is 'Ante Up,' a slick publication headquartered in Clearwater, FL.
I love Florida's East coast. I have worked on newspapers in Naples and Marco Island, as well as in West Palm Beach where Donald Trump's Maralago is located and I much prefer the sun, beaches and tropical vegetation along the East coast.
The magazine is published by a couple of genial gentlemen named Christopher Cosenza and Scott Long. They are enthused poker specialists who should be commended for putting out a quality magazine.
One thing Ante Up does that appeals strongly to the adventurous side of me...
...are their poker cruises, something the magazine has done since 2009. Jeanne Cosenza at 727 742 3843 is in charge of the cruises. You can email her at cruises@anteupcruises.com. The magazine recently published its 2019 cruise schedule.
And I can tell you this:
It's exciting!
I am planning to go on at least two of them. Naturally. I hope some of my favorite website members will join me.
On April 20, a five night cruise on the Brilliance of the Seas will depart from Tampa, FL. The ship's poker room will be open at least 48 hours and ports of call include George Town, Grand Cayman and Cozumel, Mexico. Rates start at $586 per person.
While I have never been to Cozumel or George Town, I had the pleasure of spending a day in Grand Cayman while on a Windjammer Barefoot Cruise. I had lunch at a marvelous restaurant called La Petite Cafe where the chef used hot rocks to broil our steaks, chops and seafood. This 1,000 year old method of cooking traps all the natural juices and gives the food an exquisite flavor.
On Aug. 5, the Mariner of the Seas will leave Port Canaveral, Fl. on a four night cruise to Nassau, Bahamas and the Royal Caribbean's private island of Coco Cay in the Bahamas. The rates begin at $505 per person. If you book the cruise, you can make side trips to Disney World or Orlando's other theme parks.
I am giving serious consideration to going on the Eastern Caribbean eight-night cruise Oct. 26. On this cruise the poker room on the Adventure of the Seas will remain open for 86 hours and will feature nine tournaments.
Ports of call include Royal Caribbean's private island of Labadee, Haiti; San Juan, Puerto Rico , St. Thomas and Phillipsburg, St. Maarten.
I worked as a journalist on St. Maarten for two years and played at several of the island's casinos including The Hollywood, Rouge et Noir and the Atlantis Casino. Rates start at $656 per person.
I have never been on an Ante Up cruise, buy I am going to predict they will be a fun, adventurous experience for all the passengers. I hope you will join me, and that includes Jade.
I am smiling. Happy sailing!
Author: Geno Lawrenzi Jr.
(Geno Lawrenzi Jr. is an international journalist, magazine author and ghostwriter and poker player who lives in Phoenx, AZ. He has published 2,000 articles in 50 magazines and 125 newspapers. If you want to share a gambling story or book idea with him, send an email to glawrenzi@gmail.com ).
Back to articles
Your feedback
Please enter your comment.
Your comment is added.