Poker tells are everything. At least that is what poker players believe, and the proof is in the pudding.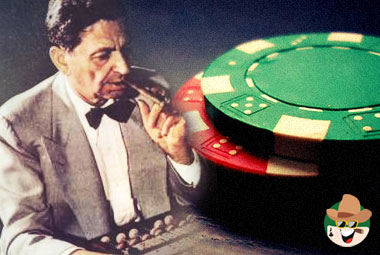 It's true that poker players notice everything.
Nicholas Dandolos, better known as Nick the Greek, discovered that one evening at the Flamingo, a popular joint in Las Vegas, when he lost a $250,000 pot because of a tell.
The year was 1947:
The Flamingo had opened just a short time before that, on Dec. 26, 1946, when Jimmy Durante, the Xavier Cugat Orchestra and a slim singer named Rosemarie provided the opening acts to a packed house.
Benjamin 'Bugsy' Siegel had built the place with mob money. It would not be long before Siegel was killed because the mob suspected he was skimming money from the casino's profits. His murder has never been solved.
Nick was playing a winner take all $150,000 buy-in five card stud game against Joe Bernstein on that fateful night. A couple of other players had bought in for $10,000 each...
...but the game was mainly between Nick and Joe.
Bernstein was seated with his back against the wall, a seat he always took. It was similar to the superstition held by Jesse James who was shot to death holding aces and eights one night, when he did not have his back facing the wall. Joe wasn't going to let that happen to him!
On that particular evening, Nick had an attractive showgirl named Marie as his date. She enjoyed watching Nick play for two reasons:
She liked the little guy and...
...Nick was generous with his winnings.
Marie had taken a seat behind Nick, who showed her his cards on every hand. That would prove to be a foolish mistake.
Bernstein was about $25,000 ahead and had $175,000 in chips. Nick had $125,000 and there was about $90,000 in the pot.
The dealer dealt Nick a jack, six and five upcards before delivering a final card - an ace. Bernstein had a pair of deuces showing when the betting got around to Nick.
The Greek studied his final hole card. Then he announced, "All in."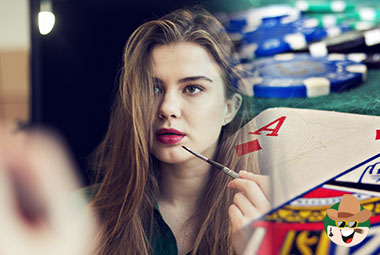 He showed his hole card to Marie.
She got up and went to the ladies room.
Joe looked at his hole card, stared at Nick, then said, "Are you sure about that, Pal"? Nick didn't answer him. He just looked away. Joe said, "I call."
Nick flung his cards into the muck. "You win, Joe," he said in a tired voice. "Marie blew the pot for me. You read her actions."
As Bernstein raked in the pot, he admitted it was true. NO woman would walk into the bathroom if her boyfriend had a winning hand!
Nick the Greek was pissed.
Nick was a legendary poker player, but some of the Las Vegas players felt his skills were overrated.
He would play a highly publicized game against Johnny Moss at Bennie Binion's Horseshoe some time later. The four-day game would result in The Greek losing more than $400,000 to Moss before declaring, "Mr. Moss, I will have to let you go," before leaving the table and heading to bed.
Watch out for tells, folks! They can be expensive.
Author: Geno Lawrenzi Jr.
(Geno Lawrenzi Jr. is an international journalist, magazine author and ghostwriter and poker player who lives in Phoenx, AZ. He has published 2,000 articles in 50 magazines and 125 newspapers. If you want to share a gambling story or book idea with him, send an email to glawrenzi@gmail.com ).
Back to articles
Your feedback
Please enter your comment.
Your comment is added.