This is now completed. 
I hope this will help new would-be Texas Hold'em poker players learn the ropes to get started in the world of online poker.  Please post below anything you would like to know that may not be covered.
I'll be covering hand rankings, the poker lobby, the tables, types of games available, the deal, the betting, best sites for action/freerolls, ring table, tournament and sitngo helpful tips and so on.
WHAT IS TEXAS HOLD'EM
It's a game played with 5 cards.  Two cards are dealt to each person at the table, face down.  These are your "hole" cards and nobody else can see these cards except you.  5 cards are dealt into the middle of the table face up and these are the community cards.  Everyone can see these cards.  The 5 community cards are not dealt all at once.  
Once you have your "hole" cards, there is a round of betting before any of the community cards are dealt.  I'll go into the betting later on.  Once the round of betting has finished, the community cards are dealt but only 3 cards at first. This is called "The Flop".  There is another round of betting and once that has been completed, the next card is dealt.  This is called "The Turn".  Again, another round of betting and the final community card is dealt.  This is called "The River".  There is then the final round of betting.  This is called "The Showdown" and at this point the winning hand is revealed (the two hole cards) and the winner of the hand takes all the money that has been bet.  
This is a very basic description of the game.
First things first then: you will need to know what hands beat what so you know whether you are throwing your money away when betting.  
HAND RANKINGS
The hands below go from lowest to the highest starting with:  
High Card (no pairs, just a high card)





One Pair (any 2 matching numbered cards)





Two Pairs (2 sets of two matching numbered cards)





Three of a Kind (any 3 matching numbered cards)





Straight / Run (5 consecutive cards)




Flush (any 5 cards all of the same suit)





Full House (3 matching numbered cards and 2 matching numbered cards)





Four of a Kind (4 matching numbered cards)





Straight Flush (5 consecutive same suit (suited) cards




Royal Flush (the daddy of all hands, 5 consecutive suited top ranked cards)





HAND SLANG TERMS
Most hands have slang terms or nicknames attached to them which you will pick up as you go along.  An example would be for a pair of Aces - these are most commonly called Rockets or bullets.  If you click this link, you will find a fantastic list created by Lipstick and the ultimate list on Wikipedia.  
So you now know the hand rankings, you know the nicknames for some of the hands; so what's next?  You need somewhere to play where you can get plenty of cheap games, play money tournaments and lots of freerolls.
We've covered what Texas holdem is, the hand rankings and the hand nicknames/slang terms.
TYPES OF HOLDEM GAMES
There are 3 main types of texas holdem games:
Ring games - single tables where anyone can join and leave at their will
Sitngo (sit and go) - a designated number of seats from 2 / 6 / 9 / 10 (plus other variations)
Tournament - again a designated number of players usually from 10 up to 100,000+.
BETTING - in brief
At the beginning of every hand, two players will always put money into the pot. This is called "The Blinds".  There is the Small Blind and the Big Blind or "SB" and "BB".  There is also always a dealer.  This is called "The Button" and the first two players to the left of the dealer or button will pay the SB and BB.  At the beginning of a tournament or sitngo, the blinds are low, usually at 15 for SB and 30 for the BB.  As the game progresses, the blinds increase at certain intervals (the length of the intervals are dependent upon the type of game you are playing and I will go into that a bit later on).  After each hand is completed, the next person to the left will become the dealer/button and then of course the next two people to the left of the dealer will be SB and BB.  This carries on around the table until the end of the entire game - this is the fairest way to ensure that everyone puts in a SB and a BB.  
There is also something called the "Ante".  The Ante is a set amount that everyone puts into the pot before the cards are dealt and at the same time as the SB and BB.  The Ante will only come into play in the late stages of a tournament and sometimes in the late stages of some sitngos.
POSITION
Position or where you sit at the table in comparison to the dealer/button is really important.  The more reactions or bets/folds you see before you have to make your decision, the more information you will know in order to decide what action you will take with the cards that you have been dealt.  They say "position is power" and it's so true.  If you are first to act i.e. you are first to make a decision about whether to call, raise or fold, you are at a huge disadvantage.  You will be to the left of the Big Blind and you are considered to be "Under the Gun" or commonly known as UTG or first to act and also known as "early position".  You have to make a decision based on your hand alone and you have no other information to hand when you make your decision.  
Let's say you have


and you are UTG or first to act so you will be seated next to the person who is the Big Blind for this round.  Your hand is pretty good so you raise.  Half way round the table, somebody bets "All in" - meaning they put all their chips in the pot.  The likelihood of them having a better hand than you is high and you just wasted your chips because there is no way you would call with a hand like you have for the bet that has been made.  Had you been the dealer in this hand and an all in bet had been made, you would have had lots of information before you had to make your decision.  One player could have gone all in, another player could have called, another player with more chips than that could have re-raised the all in and there you sit with your hand which seems to have little value now.  Position is so important and you will do well to remember how valuable position is when playing.
There are three types of position, "early position", "middle position" and "late position".  The best place to be is of course late position because you will have gathered a large amount of information based on the betting that has gone before.  
In early position, you should play:
High Pairs: A-A, K-K, Q-Q, J-J
Suited High Cards: A-K, A-Q, K-Q, A-J, K-J, Q-J
Less favourable high cards in different suits: A-K,A-Q, K-Q
In middle position you can add to the above:
High Cards in the same suit: A-10, K-10, Q-10
High Cards in different suits: A-J, A-10, K-J
Pairs: 10-10, 9-9
In late position, you can play a lot more hands simply because of the information you have gathered from the actions of the early and mid position play.  As the dealer, you are last to act (apart from SB and BB), this is by far the best position.  You can steal blinds in this position and play lower hands (but not poor hands like 7/2 unsuited - the worst hand).
POKER ROOMS - Where to play
Before I go into the tips for sitngo and tournament play, you need to decide which poker room to play at.  What you don't want is a poker room where you can't get a game.  For those of you lucky enough to be outside of the US, I recommend PKR.  This site has plenty of players, plenty of freerolls and free tables where you can earn small prizes (10c) to get your bankroll started.  There is also plenty of play money action and you need to be quick to get into the 10 seater sitngo's on this site.  The best part about PKR is that it is in 3D and there are player emotes ranging from a quick "thank you" to someone who compliments you on your play by saying "good call".  All the emotes are spoken and your avatar (which you can dress up and change the features to look like yourself if you desire) will move and raise their arms when shouting "oh my god".  This is an awesome site and a good place to learn the game but watch out for the poor players - please do not learn from their play.  
Another good site is Poker Stars which is US friendly.  There is always plenty of action on this site and you can play in lots of freerolls and play money tables too.  This is the biggest poker site and they have really cheap sitngo multi table tournaments (2c) to practice on .  Of course, don't forget Full Tilt Poker which is another US friendly site, lots of action and some very different types of sitngo's/tournaments that you can play.  
POKER LOBBY
The poker lobby can be quite daunting when you first log in to a poker site.  There are so many types of tournaments and sitngo's, you can get lost as to what you are looking for.  Not only that, on the busy sites, the tables fill up quickly and you think you're clicking on a $1 table but by the time you have double clicked, that table has filled up, another table has gone where your mouse is double clicking and before you know it, you are registering for a $50 game.  The word here is "care" when selecting the game that you want to play.  Make sure it is the correct one that has loaded.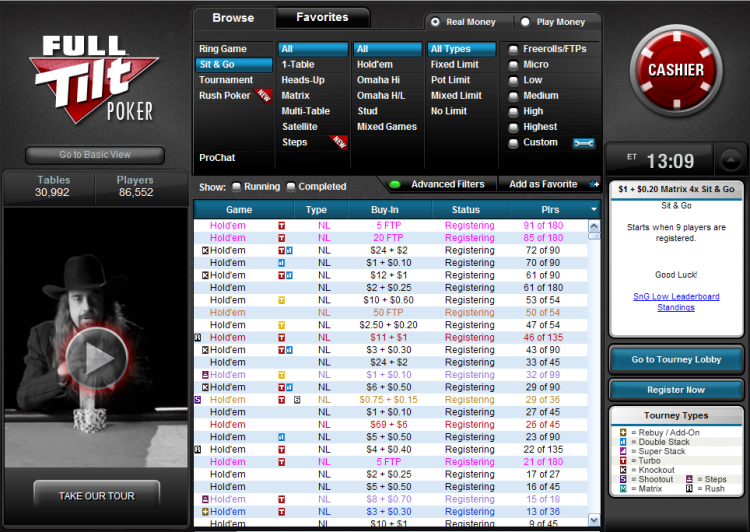 The picture above is the Full Tilt lobby. At the very top of the picture (just to the right)  you can see where you can choose either real money play or play money play.  If you are a complete beginner, may I recommend play money until you start winning play money games and also freerolls.  
Down the left side at the top are the types of games available i.e. Ring, Sitngo, Tournament and Rush.  You can see in the picture I have selected sitngo.  In the column next to that are all the types of sitngo or alternatively, you can select All (which I have done).  Below you will see the long list of games available to play.  I've actually clicked on "players" which orders the list as to the number of players that are registered. You can click at the top of the "buyin" detail to order them by the amount you have to pay to buy into a game.  To the right of the long list you can see a description of the sitngo selected and underneath that, there is the "key".  This key tells you what sort of game it is for example a red t is Turbo which means the blinds go up quickly and a blue D is double stack (you get a double stack of chips).
I suggest you play around with the lists of games just to familiarize yourself with whats on offer.
PLAYER NOTES
I recommend you make notes on players when you are playing.  An example would be where a player is constantly betting all in.  If you get to see their hand, make a note on them of the cards they are betting all in with.  If they bluff and they are caught bluffing, again, make a note on them. Basically any bad play, you should make a note.   Once you have been playing for some time, it's incredible how useful these notes will be to you and they are definitely worth doing.  
Depending on which site you are playing on will depend how you make a note on a player.  Click on the player first and you may see a drop down list of options like ignore, player notes etc.  If that doesn't work, try "right clicking" on them and you may see the list of options then.
RING TABLES
A ring game is a single table at a set stake that any player can join or leave at will.  
You need to be disciplined to play at these tables as you will generally find some good players here.  Of course there are bluffers who will lead you to believe they have a great hand...nearly every hand and you know that isn't possible.
Make note on players whenever you can.  Try to stick to the premium hands and remember your position in relation to the dealer and the importance of it.  
Ring tables are a great place to learn the game and if you can play on the play money tables to better yourself before you start spending your hard earned cash, then I highly recommend you do that first.  Once you start winning at the play money tables, you are ready to play for real.
SITNGO TOURNAMENTS
Sitngo tournaments are where a set number of players play poker until everyone is knocked out and there is a winner.  The number of seats can very and are also dependent upon where you are playing.  The most common sitngo games require 6 or 10 players (9 at some sites).  The 6 seater sitngo games will pay the top 2 places and the 10(9) seaters pay the top 3 places.  You can also play heads up and I'll talk about that a bit later on.
There are also sitngo's with 990 players in them.  These can be found on Poker Stars and the buy in is just 2c.  This makes this a really good place to learn about not only sitngos but also about tournament style play.  
I recommend the 6 seater sitngo's to start.  This is a great place to learn sitngo play.  
I suggest premium hands to begin with (AK, AQ, AA, KK QQ and even AJ) and just fold if you don't get these kind of hands.  Once one or 2 people have been knocked out, you can loosen up a little and play lesser hands like A,10, JJ, 10 10 and so on.  If you get a small pocket pair, I suggest just flat calling if you can (if there is a raise, you may as well fold) and if you hit trips on the flop, you're in a very good position.  If you don't hit the three of a kind and there is betting, just fold.  It's pointless throwing your money away particularly if the highest card on the table is higher than your pocket pair.
TOURNAMENTS
Tournaments are a different thing altogether particularly freeroll tournaments.  You will find with freerolls the play at the beginning is very poor.  Stick with the premium hands and don't be lured into calling an all in bet just because someone is trying to steal your blinds.  If you stick with the premium hands during the first part of the tournament, you will make it into the top 65%.
Once you are at this stage, you could loosen up a little and try to build up your stack if you've not already done so.  At some point you are going to be near the "bubble".  The bubble is the cut-off point where you will just miss out on being paid if you get knocked out at this part of the game.  For example, the top 50 places pay and there are 60 players left and you are say 51st or 52nd.  Protect your chips where you can and think about how many blinds you could pay out of your stack of chips that you have left.  Can you make it to the paying places?  
To recap - tight in the beginning, loosen up in the middle and tight again until the paying places.  If you make it to the final table (the last 10 players), I suggest tight play again and stick to premium hands and pocket pairs where you can.
Note: This is only a suggested strategy and each game will differ depending upon the level of buy-in and the site you are playing at.  
HEADS UP
Heads up play is very different and you would be very wise to practice this kind of game as often as you can.  When playing heads up, Ace high with anything is a great hand as is KQ and so on.  To beat an opponent heads up, you really do need to understand their playing style.  Gaining a good understanding of heads up play will assist you in heads up situations in both tournament and sitngo play.  Think about the final table of a tournament and imagine it's you and one other player left in the tournament and the first prize is almost double the 2nd prize.  This is where heads up practice will benefit you in so many ways.
CONTINUED....further down